Feedback of our Participants
Joachim from Hesse, Packrafting expedition course Norway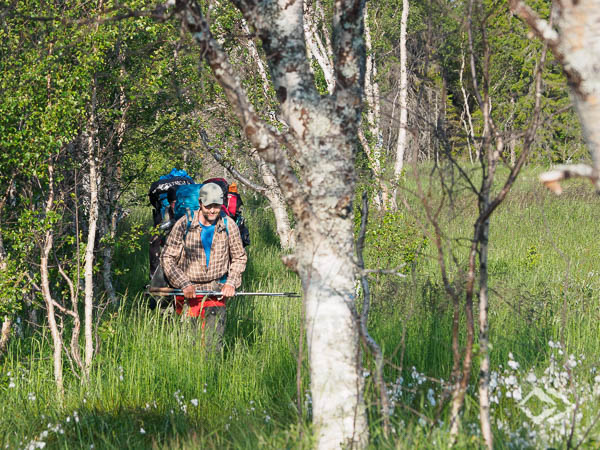 Joachim has got to know Packrafting at close range, has ridden with us through the waves of Tyrol and through the lava fields of Iceland and was now 2019 with us in the Scandinavian wilderness. Under the blog contribution of the course he left us the following comment:
"Another unforgettable tour with our always-good mood guide Sebastian and the white water queen Susanne! Best prepared by LWA, we were allowed to roam the beautiful landscape of the Sylan Mountains for one week. We had everything on this tour, rainy days, sunburn weather, mountains, rivers, suspension bridge, blueest sky, mosquitoes of the nasty kind, campfire, in short a perfect adventure and a blessing for all who were allowed to be there."
Frank from the Stuttgart area, Multiday Packrafting Training Hunsrück, Spring 2018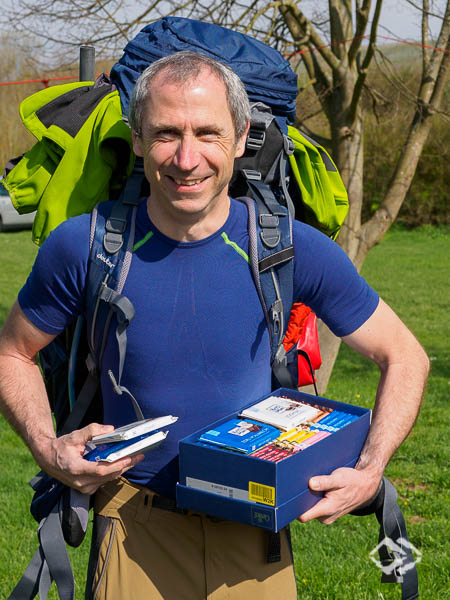 This is Frank. Frank was with us for the first time in spring 2018 in the Hunsrück. And because he had read so much about the chocolate love of the LWA team on our channels in advance, he brought a whole box of it with him to the tour start. We were impressed! :-)
After the tour Frank replied to us with a wink of the eye:
"An old saying goes: 'If you can't impress people with performance, impress them with chocolate' ;-) I have to thank you for the great tour, it was really an experience! Since I was able to cope with the weight of the luggage much better than I feared, I now also plan to take the next step next year and go on the Norway tour with you."
In the autumn of the same year Frank and his wife joined us at river Soca together. And now that they have expanded their own Packraft fleet, Frank stands true to his announcement and will join us for the expedition training in Norway and Sweden 2019.
Mareike and Jens from the Neckar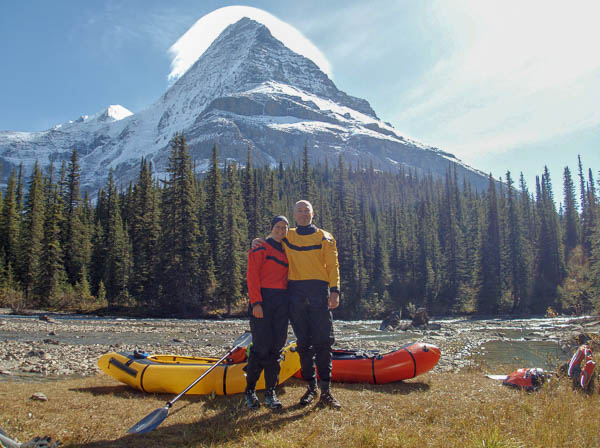 They were already enthusiastic outdoor enthusiasts, they became enthusiastic packrafters on the Nahe (Link in German), then immediately in the Hunsrück and in the coming season we meet again in Tyrol and at the Soca. But since the courses Mareike and Jens are also on their own fist with their own Packrafts. They wrote about their trip to the west of Canada in the Land Water Blog, you can find their contribution here: https://www.land-water-blog.de/de/kanada-hike-in-raft-out/ (Link in German)
Shortly before the end of their trip they sent us this mail directly from Canada - "carelessly" ;-) - because we immediately wrote back if they don't want to tell us about it in the blog. They did! Thanks for that and for those nice words:
"Hello Sebastian! A year ago we sat in a Packraft for the first time and were immediately addicted! Thanks to your training we neither capsized nor sank in Canada ;-) Instead we are now immortalized with the colorful boats on various photos of outdoor-enthusiasts Canadians! With this in mind, thank you very much for that and especially many greetings from Canada!!! We are looking forward to October! Jens and Mareike
Christine from Heidelberg, Multiday Packrafting Training Hunsrück Compact, Fall 2018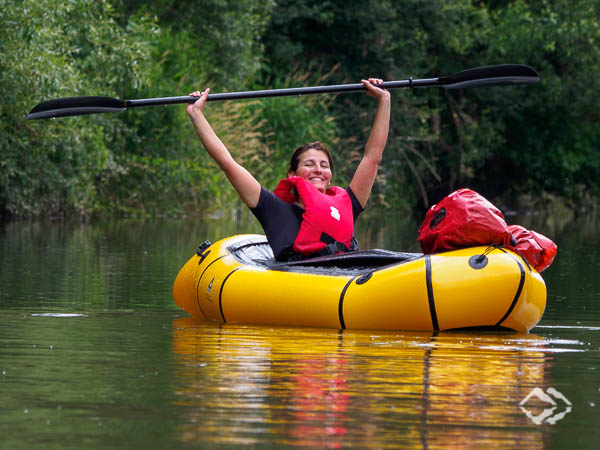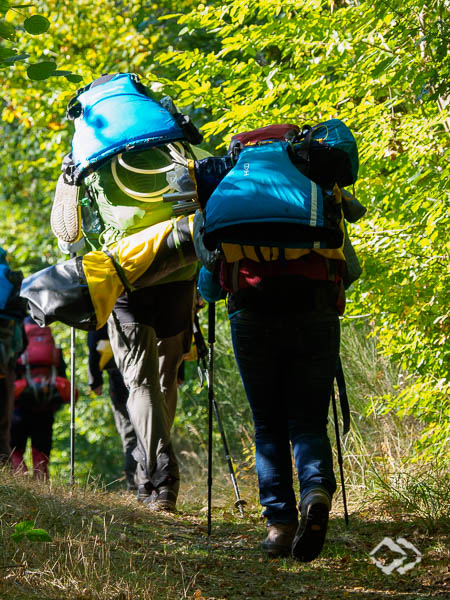 In the early summer of 2018 at one of our day trainings on river Nahe (Link in German), Christine got into a Packraft for the first time. There she must have caught something, because shortly after she had her own Packraft with which she visited us in autumn of the same year for the Multiday Compact training in the Hunsrück area. In a positive way this demanded a lot from her and apparently made her want more. Christine has followed her announcement from the mail below and will venture with us in June for the first time in Tyrol into whitewater.
The e-mail below came from Christine a few days after the Hunsrück training in the Hunsrück. Many thanks for these nice words - but why save on the chocolate croissants? But read for yourself:
"I really enjoyed the weekend and paddling, and I don't regret buying a boat for a single second. And the enthusiasm that you and Moni show for it just sweeps away all doubts and worries. This is really great! Also the campfire and cheese fondue were great! Untrained as I was, I reached my physical limits during the luggage march :). All the happier and prouder I am to have managed this nevertheless - and next time I will certainly pack more "reasonably" or expedition-suited and leave chocolate croissants at home ;).
So thank you very much for your patience, peace and of course your support. Even if your photos were great, Iceland is probably one too many for me :). But I'd really like a course in Soca or Tyrol :). Let's see what the next year will bring. I will keep myself up to date in any case!"
Marie from Switzerland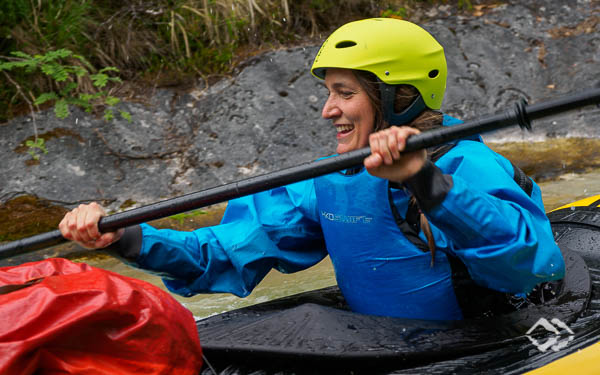 Marie has often been on dry paths before she decided to dive into the Packrafting adventure with us. With the aim of participating in an Iceland expedition she roamed the Hunsrück with us in spring, then rode the waves of Tyrol to finally join us on the lava rock in July. Shortly before Christmas this picture of her with ice on her helmet came from the Vorderrhein together with a nice feedback we would like to share here.
On the picture below you can see Marie at the Tyrol-Training.
"Hi Sebastian! Yesterday the great calendar and the christmas card arrived! Thank you very much for that and best regards from Switzerland. I have moved here in the meantime and was actually during the weekend at -9 degrees riding the Rhein near Versam, something that I would never have dared to do without LWA. So thank you very much for everything I could learn from you in this area this year. I have heard that the Bayern training is unfortunately already full... Too bad. But if there's something very crazy in the pipeline again, then I'd love to be there again."
Christophe from Switzerland, Whitewater Packrafting Training Soca3-2018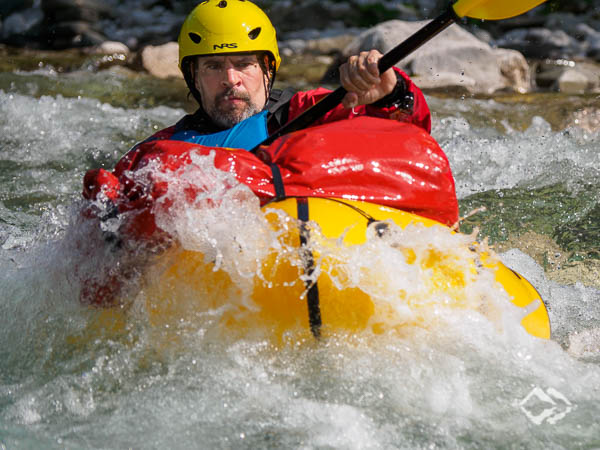 Christophe had already tried Packrafting in calm waters in Switzerland before joining us in the whitewater waves of Soca in 2018. Shortly after he has climbed out of the waters of the cemetery run his eyes have shone so brightly that we asked how it was. The result is this short sequence. He speaks in Swiss German and what he says translates to: "Cemetry-Run: This was just awesome, just amazing, this is a dream, just do it, just come here."
He also left us this e-mail after the course:
"Many thanks again for these great, extraordinary and unforgettable 5 days I was able to experience with you, Andi and the whole LWA team. I have thought on the whole way back about the countless small and big actions in and out of the water with huge joy and look forward to the next expedition in the coming April."
Tim from Munich, Packrafting Expedition Norway 2017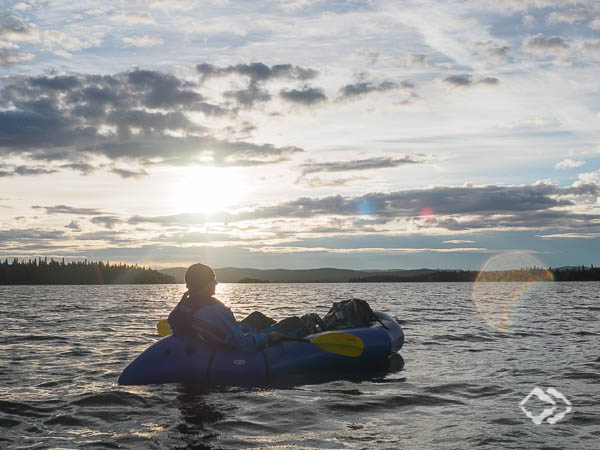 Tim came with previous outdoor, mountain and whitewater experience and started with us directly with the expedition training Sylan in Norway and Sweden. After this expedition he sent us following feedback via email:
"A thank you to you for this intense and perfect trip week! Everything worked out just perfectly: From the group setting, the route and stage planning to the weather. Of course you don't have an affect on everything, but you made things right. I felt well cared and the mixture of challenge, nature feeling and the possibility to learn was just right for me."
Konrad from Kaiserslautern, part of our piloting Tyrol trip 2017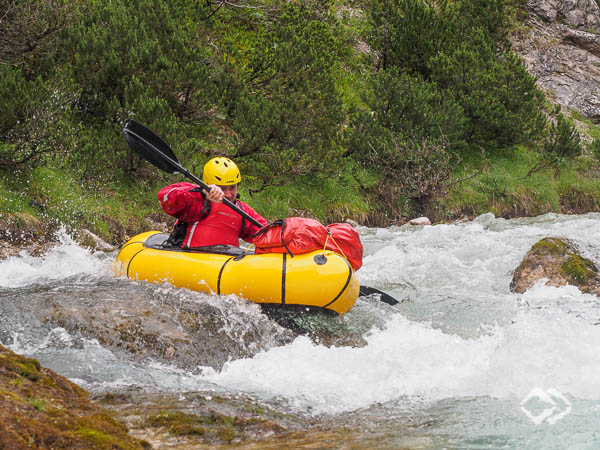 Konrad became familiar with us in the turquois waves of the Soča and was directly infected by the packrafting virus. After he then went with us for the first time to Tyrol, he sent us following feedback via email:
"For me personally, it was again a wonderful experience, which gave me a lot of strength and self-confidence and I am drawing from this for a long time. Especially your way, of bringing people together and creating a positive atmosphere, impresses me. I like being on the tour with you, and without any bad conscience, I can highly recommend your trips and trainings to everyone."
Frank from Hamburg, joining us in the Hunsrück, Norway, Tyrol and Iceland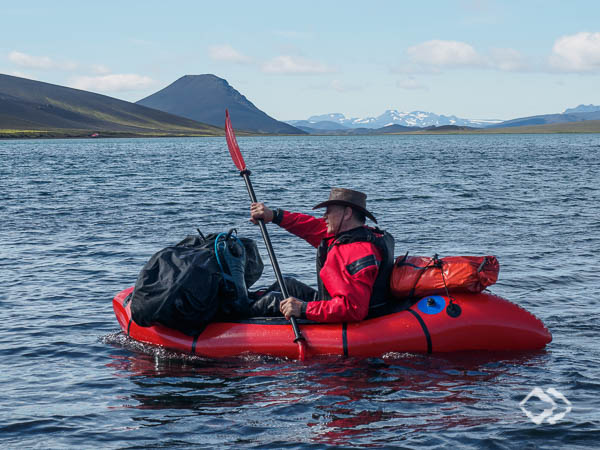 Frank is a privat expeditioner doing autonomous tours to Russia and elsewhere. Since 2015, he has started his personal outdoor seasons with our packrafting training in the Hunsrück. He traveled with us to Norway, Tyrol and was part of the first Iceland Expedition in 2017. He wrote us a feedback about why he continuously travels with us:
"I am having fun traveling with you and being part of a few of your expeditions. Sure, the expeditions, challenges and adventures are the main reasons I do this. But, I am doing this with you, because you are the way you are. And I like this. Prior to the trips, I did not know anyone of the participants. (…) but you have a knack for finding the right participants and guiding them. Just in the perfect dimensions. This is why I will travel with you as much as it is possible. :-) "
Anika and Till from Dresden, Packrafting Training Hunsrück in Spring 2017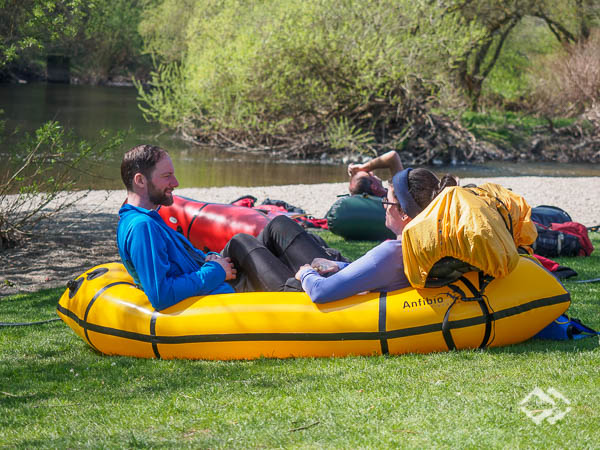 Anika and Till made their way from Dresden to us at the beginning of 2017, to start the season in the Hunsrück. After their first multiday packrafting trip and maiden journey of their new boats, they both described their impressions to us in an email. Just to jump into the waves of Soca a half a year later.
"During the Hunsrück trip we had a lot of fun, learned a lot and were able to pick up so many impressions and inspiration. Looking back it really feels longer than four days. It was great to meet you. You two were very sympathetically guides with whom we felt save at any time. The course was perfectly organized and we could really see that you put great passion in details."
In the meantime, Anika and Till have hit it off with their rafts on own adventures, of which they have written in our Blog: www.land-water-blog.de/fruehling-ardeche/
Berit from Geneva, Packrafting Training Hunsrück in Spring 2017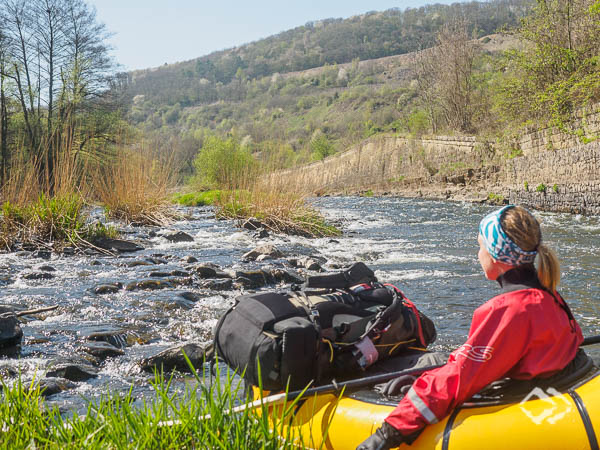 Berit prepared herself by participating in the Hunsrück Training for the Expedition Norway and wrote her feedback after her first four days in a packraft.
"By flipping through the pictures, I again have the chilled Hunsrück-Feeling. Thanks again for this amazing Hunsrück trip. We really had some nice relaxing days with the great team (…) Organization and preparation were over the top and we had a feeling about how intense you care for each participant."
Janine, Day Training Packrafting in Spring 2017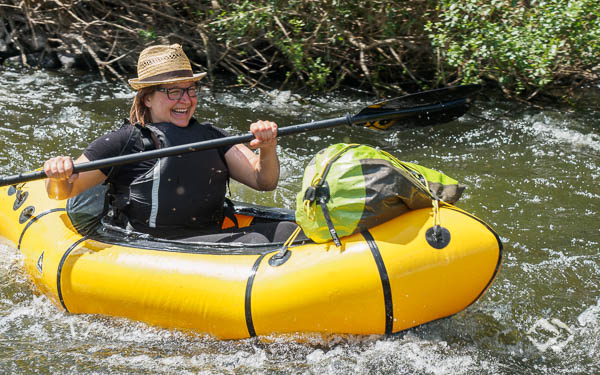 Janine got involved with the adventure of water sports for the first time with us and sent us this enthusiastic feedback by e-mail after her Nahe-Training (Link in German):
"The day with you was really great, I felt so good with you. The location chosen by you is absolutely enchanting. Was for sure not my last visit on this camping site. But also our group, as different as the participants were, was really great. Greet Susanne again very cordially from me. Everything, all the best for you, your family and your company, so that you can still make many people as happy as me with your work :-)"
Moni from the Lower Rhine, Participant of our whitewater Packrafting Training on river Soca 2016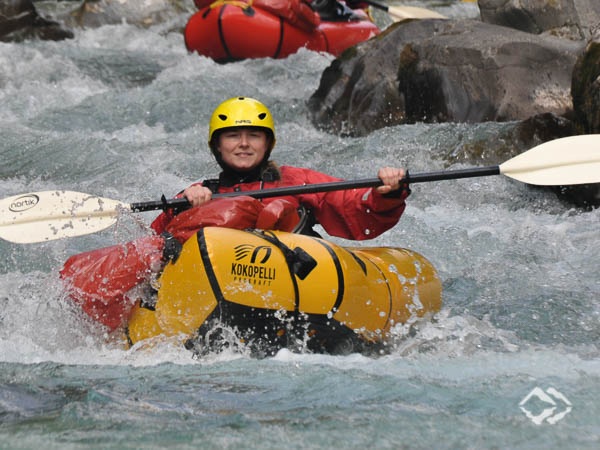 Moni discovered us about three weeks before going on vacation. After her first whitewater training in the Soca valley, she wrote the following review on our facebook page:
"Thank you to you Sebastian and Andi! My expectations where high… but you exceeded them all! The combination of action, fun, nature, nonsense, adventure, and the total relaxing atmosphere, were just great. Thanks for showing us so many unbelievable and stunning places. I will miss this crazy gang. Can't wait to next years trip! See you!"
Thomas from Vienna, participant of the Iceland Expedition in 2017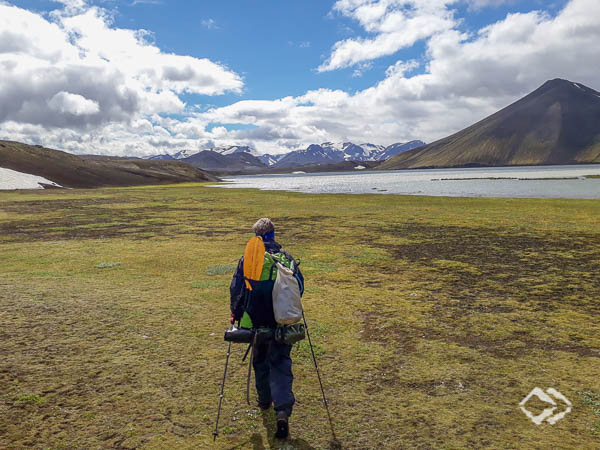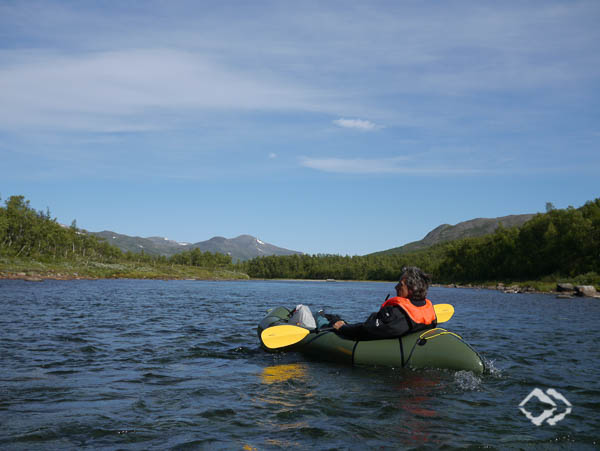 Thomas is searching together with Land Water Adventures since 2014 his own personal adventures:
"Two years after my trip to the Sylan Mountains I again was one week on tour with LWA – an individual trip in the southern part of Iceland. I don't want to deal with the description of this country, to be any way near in describing these unforgettable and fascinating impressions you must be a writer or poet. I am neither, just a 60 year old, reasonably fit, townsman who learned to trust in Sebastian from LWA: If Sebastian offers me a hiking/rafting trip to the Icelandic highlands, he will be sure that I can make it, and that is all I need to know. This trust paid off. I experienced the capability of a man, having an experienced guide, precise preparation and a bit of flexibility on-site. In every single way a challenging but fulfilling week, in which I partly was happy doing nothing but following Sebastian's wide back. In the last two years LWA became an even more professional provider of adventure trips. I highly recommend anyone to take the chance and explore your own limits."
A Participant of our piloting Tyrol trip 2017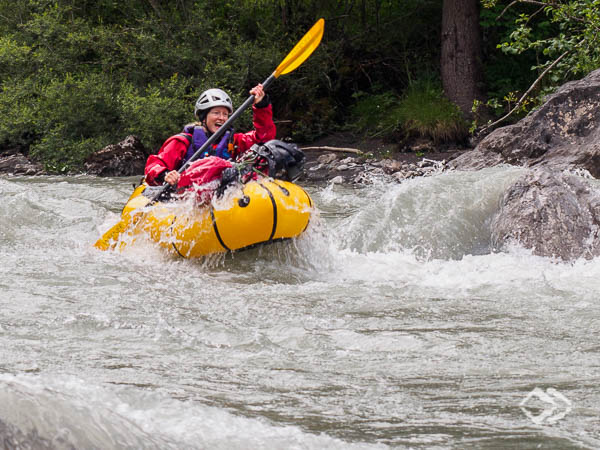 After three days of sun, rain and a lot of whitewater in Tyrol, we received this feedback via email:
"Everything was just perfect – even things that didn't run smoothly, if looking from the distance. The rain gathered us under the LWA pavilion and brought us, after a short trip to the riverside kiosk and the old lady, all together at the extremely cozy black master of the sky's, with culinary delicacies, top service and table neighbors, who even filmed us on the water – how much better can it get?! He brought us water to the rivers on which we could extensively dive into the waves. And the right conditions to ride on the upper Isar. We experienced that summer is not always the same and ravioli can be a culinary delight for breakfast. Sebastian and Susanne not only taught us a lot und rescued some of us out of the waves after going overboard – ok one sandal drowned – no, Sebastian gave us the priceless guarantee of stage fright combined with detailed information (I am talking about an 1,5m dive into a rock gorge!!!) and Susanne provided us with incredible pictures and by the way showed us how whitewater paddling can look, well, maybe some day. You saw the relief and pride, of successfully meeting challenges and not flipping over, in the eyes of every one grinning proudly after mastering torrents. Above all, we talked, listened, did nonsense and laughed even more. I am now richer of memories and got to know wonderful people. Thank you very much!"
Victoria from Berlin, participant Packrafting Hunsrück 2014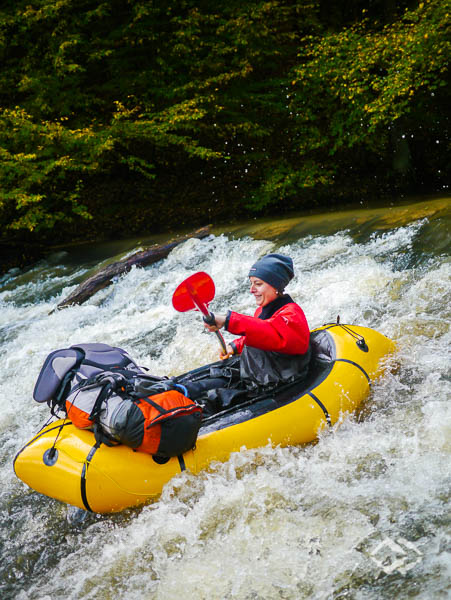 Victoria was traveling with us in a packraft for the first time ever on an autonomous multiday tour. After the tour she wrote the following review on Facebook.
"During these four days I have surpassed myself and in my mind I am still trying to arrange all these little adventure puzzle pieces.
Again a huge 'Thank You' to the guides [...] – I felt safe at all times and the tour has benefited immensely from your charm and serenity that you radiate. [...] I recommend this trip to anyone, having a pulse for the nature and action. Cheers, Victoria"